On September 8th, 2010 the wheel of the steamship Patris was transferred to its final location, on a specially constructed base in the courtyard of the Industrial Museum of Hermoupolis, where the process of its restoration by a specialised scientific team has already begun. The wheel of Patris weighs ten tons, measures six meters in diametre and rests on a cast steel beam measuring 40 cm in diametre and 5 metres in length. The wheel constitutes an exceptional and rare artifact demonstrating the art of shipbuilding. The entire operation was sponsored by the Pateras family and the last phase of transportation was realised by the Neorion Shipyards of Syros, which provided specialised equipment and a team of ten people.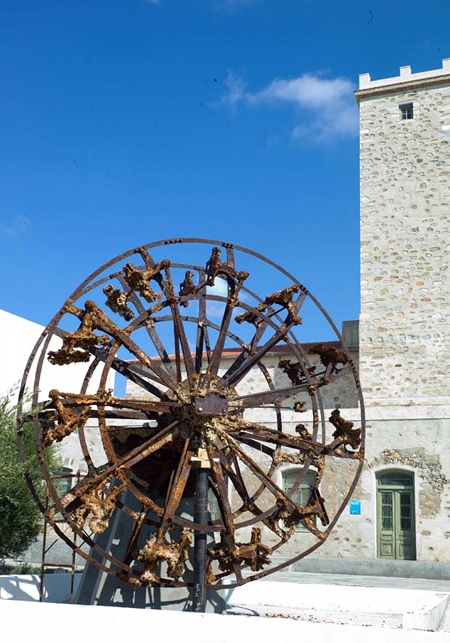 Salvaging the wheel
In 2007, a large-scale operation aiming to salvage one of the two wheels of the steamship Patris was organised. The operation was a collaboration of the Industrial Museum of Hermoupolis, the National Hellenic Research Foundation, the Ephorate of Underwater Antiquities and the UFR-Team of divers. In addition, the operation was filmed to provide footage for a documentary entitled "Patris-Lost in 1868″, a co-production of ERT SA, the production company TECHNIS and the CTC-IMH. Following its salvage, the wheel was temporarily placed in the Hermoupolis traditional shipyard, until it was transported to its final location.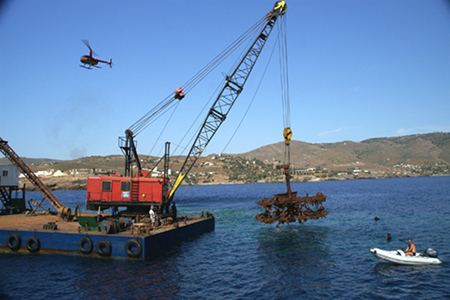 The shipwreck
Patris sank in fair weather, after hitting a reef near the island of Kea in 1868, while on route to Syros from Piraeus. Initially, responsibility for the wreck lay with the captain N. Aggelikaras, who was later acquitted by the naval court. There was no loss of life, as all passengers got ashore safe and sound. Nonetheless, the financial damage incurred by the Hellenic Steamship Company was significant. The ship, which was cut in two, lies at about 50 metres underwater to this day. Since 1980, the shipwreck has been a popular attraction to experienced divers from all over the world, as it is extremely well-preserved.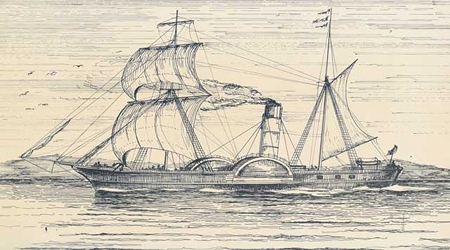 The steamship Patris
The passenger steamship Patris was one of the ships of the Hellenic Steamship Company, the first sea service founded in Greece. It was ordered by former king Otto and built in England in 1860. It was a luxury ship made of iron, 217 feet long, 28 feet wide, with a tonnage of 787 register tons, a displacement of 700 tons and a 180 horsepower engine. It burned coal, which fueled the steam engine which, in turn, set the ship's two wheels in motion. However, it also had sails.
Although the wheels of Patris were technologically more evolved, you can find out the basics of steam-powered paddles here.