The permanent exhibition, located in the Katsimantis Dyeworks building, consists of 307 rare documents about Hermoupolis's industrial heritage, including maps, images and icons from late 17th century to mid 20th century, original architectural designs and urban planning details of neoclassical Hermoupolis, paintings by 19th century painters from Syros and ship models. The exhibits were chosen from the Museum's collection as well as the Hermoupolis Historical Archive collection.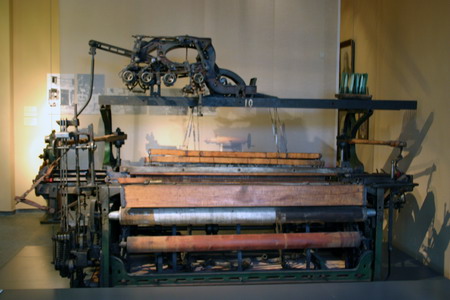 The exhibition spans six halls:
Hall 1 : A Town of Refugees

Hall 2 : Opening to the World

Hall 3 : Crafts of the Sea

Hall 4 : Hellenic Steamship Company-Neorion Shipyards

Hall 5 : Industrial Take-off

Hall 6 : Temporary Exhibitions
The permanent exhibition's main body comprises of 22 restored machines from the Museum's collection, accompanied by a number of tools, equipment, raw materials and industrial products.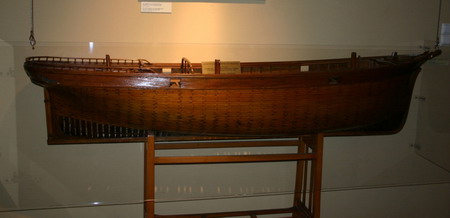 There have been additional donations of individual machines and objects by a number of people in Syros and Athens, who continuously contribute to the Museum's work.
Amongst other exhibits, the Museum's permanent collection includes:
The historic K. Charalabidis women's novelty store (early 20th century) in the Commerce Hall.
In the Crafts of the Sea Hall, original hand-drawn designs from the George Mavrikos family archive as well as shipbuilding design tools are on display. Mavrikos was of the most celebrated ship constructor in Hermoupolis.
A post (pillar) from the Church of the Dormition of the Virgin Mary, one of the town's first Greek-Orthodox churches, on display at the Museum's entrance (initially, the posts were made of wood but were later replaced by iron ones).
As part of the permanent collection, two monitors present:
Videos from the Industrial Museum Oral History Archives, with testimonies of people who worked at the factories of Hermoupolis.
Videos of the salvage of steamship Patris.
Other permanent exhibitions at the Industrial Museum.