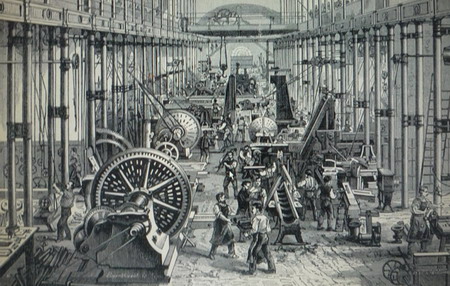 Industrial archaeology, apart from collecting, preserving, documenting and promoting material and immaterial remnants of the past, strives to bring them to life by connecting them with people and their everyday lives.
Hermoupolis has had the good fortune to be extensively studied by a team of significant historians during the years from 1973 to 1985, as well as the last decade. Nowadays, its industrial remnants number tens of industrial buildings, where the Industrial Museum four buildings –restored in exemplary fashion- are interposed. It was and still is a unique heritage area in Greece by any standards and, along with its network of restored residential buildings, constitutes a destination of particular interest. At the same time, the CTC re-opening provides an excellent opportunity to study and research the economy and society of the Greek islands.
A few milestones in the history of the Museum:
1986: The Scientific and Educational Foundation of the Cyclades is founded by the Institute for Neohellenic Research of the National Hellenic Research Foundation (NHRF), the Municipality of Hermoupolis and the Local Authorities Union of the Cyclades. The SEFC establishes the annual scientific meeting "Hermoupolis Seminars" and starts to gather machinery for the Museum collection.
1994: The Katsimantis Dyeworks building, previously owned by the Neorion Shipyards, is turned over to the Municipality of Hermoupolis.
1994: Hermoupolis joins URBAN, an initiative of the European Regional Development Fund (ERDF) for sustainable development in urban districts of the European Union, through the Hellenic Ministry of Environment.
1995: The Municipal Company for the Development of Hermoupolis is founded and charged with running projects assigned by URBAN.
1995: The Industrial Museum project is included in the South Aegean Regional Operational Programme of the 2nd Community Support Framework, through the Hellenic Ministry of the Aegean.
1995: The Municipality of Hermoupolis purchases the Aneroussis Lead Shot Factory building.
1999: The Municipality of Hermoupolis purchases the Kornilakis/Dendrinos & Koutsis Tannery building.
1999: The CTC Scientific Board is appointed and charged with the supervision of the Industrial Museum project.