The factory building houses the Industrial Museum Restoration and Maintenance Workshop for Machinery and Tools, which is unique in Greece.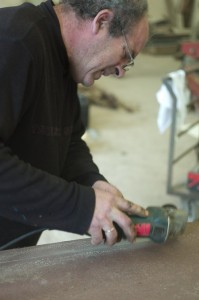 The factory, founded in 1900-1905, is still in place in its entirety. Until the early 1960s, it housed print-dye works and a cotton mill. Subsequently, it was owned by the Neorion Shipyards which passed it on to Enfield, one of their affiliate companies. Enfield Automotive attempted to produce a short-lived electric automobile named "Enfield-Neorion" using this factory.
Nowadays, its largest part houses the Neorion staff supermarket, while a smaller part belonging to the Municipality of Hermoupolis was ceded to the CTC-IMH to house the restoration and maintenance workshop.