The Katsimantis Dyeworks building houses the Museum permanent and temporary exhibitions. It is located on the south side of Hermoupolis, on George Papandreou street, next to Heroon square.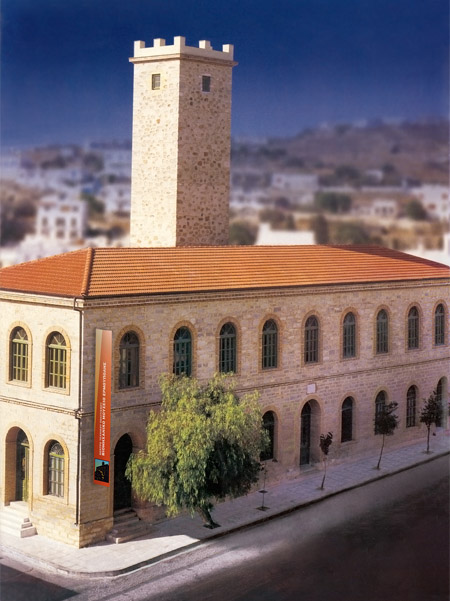 As it is situated at the centre of the old industrial zone of Hermoupolis, it is surrounded by monumental listed buildings, mostly former textile factories and other industrial spaces.
From 1888, it housed the Lysandros Yamalakis lead shot factory, while from 1894 it was replaced by the L. Yamalakis & Vratsanos Bros steam-powered nail, needle and pellet factory. Around 1905, ownership passed on to Andreas D. Katsimantis and the building itself was used for pulverising and storage of materials to be made into dyes. The dye works suspended their operation in the 1930s. After 1970, ownership passed on to the Neorion Shipyards.
In 1984, the Dyeworks factory was declared a listed building by the Greek Ministry of Culture. The Ministry Administration of Monument Reconstruction produced detailed charts and maps that contributed to its restoration, as the building had been in ruins for many years, and its characteristic tower had collapsed. While the restoration process preserved the external form of the building, it brought about necessary changes in the interiors, in order to accommodate the CTC-IMH central services and office space, as well as the creation of exhibition halls. Restoration works were funded by the Ministry of the Aegean and the Industrial Museum of Hermoupolis officially re-opened the Katsimantis Dyeworks building doors on May 2nd, 2000 with an inaugural exhibition entitled "A Museum Is Born".